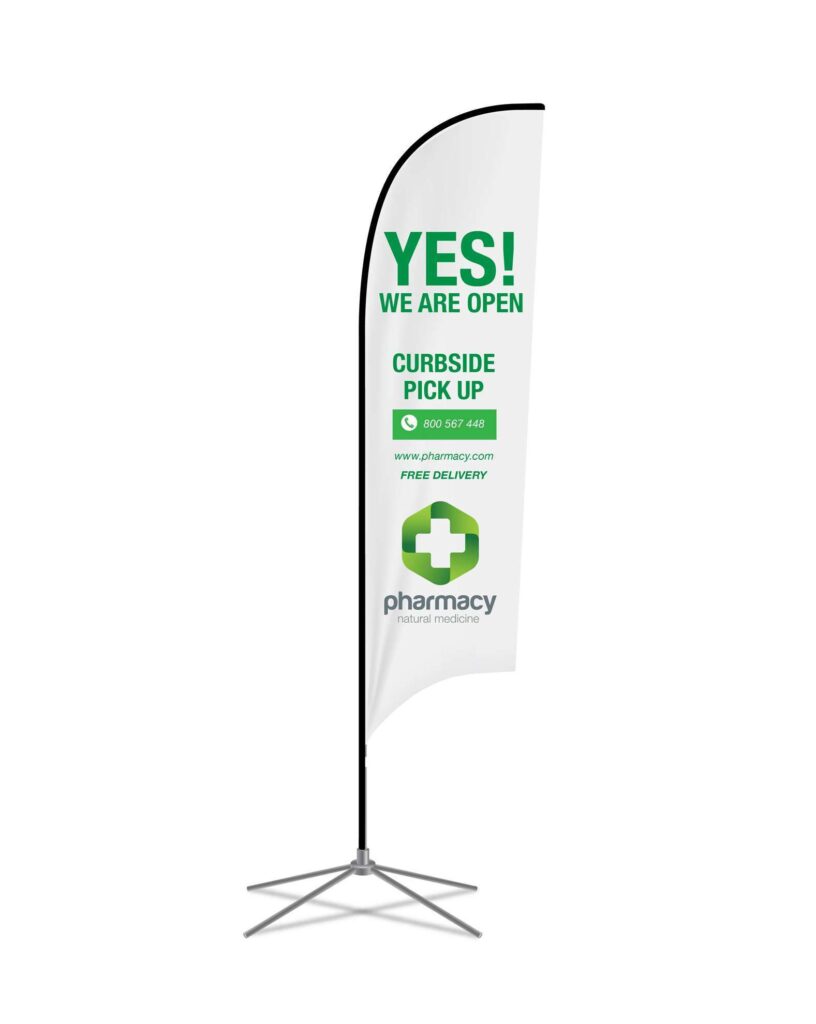 It's the ultimate portable feather flag too, and you can take them just about anywhere – creating an effective space that looks smart and gets attention, wherever your brand or business goes.
The feather flag banners are suited for indoor as well as outdoor use, are available in three different sizes and offer a choice of bases – so they're adaptable to all kinds of areas, spaces and ground surfaces. And, because they're designed as open flags, you get a flag that stays open (wind or no wind) so your message is always fully visible.
Our custom Feather Flags features:
Full-color dye sublimation printing
Pantone Matching System color match (product specific)
Four styles
Three sizes: 9ft, 12.5ft and 17ft
Wind rated – 40 mile per hour winds
Chrome-plated carbon steel base
Carbon fiber pole system
200Lbs strain-tested, flexible pole system
Lifetime warranty on hardware from manufacturing defects
What's included with your feather flag banner:
All our flag banners are sold either as a kit (hardware included) or you can just purchase the flag banner if you already have hardware.
Fabric sleeve
Ground stake
Carbon fiber pole set
Double Sided or Single Sided:
Our custom flags offer a large printable area and can be single or double sided.
Feather flags that are printed on one side display a mirror image in reverse on the other side.
The two-sided flags have an impenetrable inner layer, and that means you have the option to print a different image on either side of the flag, without any 'ghosting' (a feint image showing through).
Our custom feather flag bases:
We offer a variety of bearing bases for your promotional flags, so they are adaptable to many different ground surfaces.
Cross base (includes free water weight bag)
Ground stake
Tire base
Wall mount
Our feather flags are the definition of affordability
The Move In Media custom feather banners are the definition of affordability if you're looking inexpensive flag banners or want to buy in bulk.
You get a flag that's made to last plus our unbeatable price offer.
We do our utmost to give our customers the very lowest prices, which is why we have our exclusive Name Your Price bargaining tool. And we don't skimp on quality.
The branded flag banners are made from high-quality polyester and all our bases are on bearings so that the flags can rotate in the wind. What's more, our robust bearing bases can withstand wind speeds of up to 40 miles per hour.
Our printing process
We use full-color, dye-sublimation printing for a high-definition result that highlights details and brings your branding to life.
In dye sublimation, color fuses with the fabric itself, rather than being printed on top.
This provides exceptionally realistic picture quality. Move In Media can also offer full compatibility with the Pantone Matching System (product specific), please contact us for details.
The perfect promotional feather flags? 12 reasons we say YES!
Suitable for indoor or outdoor use.
Can be used for a wide variety of activities, from trade shows to sports events.
Great savings with the our competitive pricing.
Affordable flag banners: wholesale and bulk purchases welcome.
The ultimate portable branded flag banner: adaptable to all kinds of spaces and ground surfaces.
Designed to be always open, wind or no wind, so your message is always displayed.
Bearing bases withstand extremely high winds.
Corrosion-free carbon fiber pole system.
Dye-sublimation printing for high-definition, eye-catching color.
Lifetime warranty on banner poles and bases from manufacturing defects.
Pantone Matching System compatibility (product specific) so you can match any color.
Can be printed on two sides with no 'ghosting'.
Step On It banners are ideal as outdoor banner flags because they're designed to stay open (wind or no wind), can withstand winds of up to 40 miles per hour, and the carbon fiber poles are resistant to corrosion and rust.
Full color printing
Available in full color. Printing can be single-sided (with printing on one side only) or double-sided (printing on both sides).
Single sided: Bleed-through of 95%, which means the printing is visible on the other side of the banner in reverse.
Double sided: These flag banners have a block-out liner and two closed-weave outer layers. It allows for different graphics on each side of the banner and will read correctly from both sides.
We use full-color dye-sublimation printing, which allows for color matching with the Pantone Matching System (product specific).

REQUEST A QUOTE!