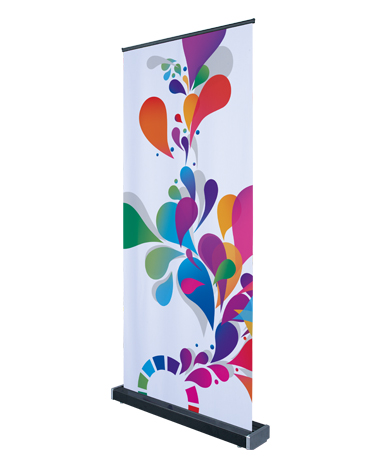 Retractable Banners
Want to stand out at any trade show? Move In Media is here to help. A Retractable Banner or Roll Up Banner is a great promotional addition at any trade show, conference, or event of any type.
Our high-definition full color digital printing will make your graphic or message truly noticeable! Opt-in for a display printed on either one of the high-quality 13 oz matte non-curly vinyl or 9 oz polyester fabric materials.
Pull up your banner at the event then retract it back in when finished. Then simply pack it up in your very own Move In Media portable black carrying case for easy transportation.
Retractable Banners are customizable and can be made from either 13 oz matte non-curly vinyl or 9 oz polyester fabric. Both are very durable and strong materials that don't wrinkle, absorb light and can be easily cleaned.
We have three types of Retractable Banners to suit your needs: Standard, Deluxe and Pro.
The Standard version banners are available in three sizes:
24 in x 81 in
33 in x 81 in
47 in x 81 in
The Deluxe and Pro version banners offer you the extra great option to adjust the size of your roll up banners as they include adjustable poles.
If you want even more attention to your Retractable Banners opt-in for LED lights.
Move in Media Retractable Banners are durable, easy to carry and easy to use. Our full digital printing guarantees a display that brings to life your brand or company's graphic or message.
Our Retractable Banners and their metal bases will last you for years on end.
Standard Retractable Banner Bases
The Standard Retractable Banner is the most affordable option out of the three while maintaining a high-quality value. The standard banner's base is aluminum and has small aluminum feet that fold out of the base perpendicularly, adding more stability to the banner. The feet can then be easily folded back in, making the base incredibly portable.
Production Time
Your Retractable Banner can ship within 3 days. For special request orders, Retractable Banner stands can be ready to ship within 24 hours if prior arranged. Delivery times on larger orders vary dependent on quantity.