Teardrop Flags – unique teardrop shaped advertising banners aimed at raising passers-by and driver's attention to your brand, event, or sale. They are amazingly affordable, widely customizable, and highly-attractive customer targeting methods.
Print any branding, advertising or promotional display on one side or both sides of the Teardrop Flag. All prints are done through a full color dye sublimation. The dye penetrates the fabric instead of sitting on top, producing a high definition display – to truly bring your print to life.
Teardrop Flags are made from high-quality polyester offering a qualitative canvas for your print. The flag poles are made from the strong yet flexible carbon fiber to give you a stable yet malleable flag pole. The bases of our poles – ground stake, tire base and cross base (including free water weight bag) are done with the finest quality chrome-plated carbon steel. Ensuring the highest level of stability even in 30 mph wind conditions.
Increase your marketing arsenal and use these exceptionally versatile Teardrop Flags for a variety of events – contests, point of sale and other in-store promotions, product sampling promotions, trade shows, sports events, charity and community events, customer appreciation events, and more!
Our Teardrop Banner Features:
Full color dye sublimation flag printing.
Pantone color matching – meaning your brand remains vibrant and attractive!
Chrome-plated carbon steel bases for added durability and stability.
Lifetime warranty on all hardware options with our teardrop flags.
200 lbs strain tested flexible carbon fiber pole system can easily withstand high winds.
Available Sizes:
Teardrop flag banners come in various different sizes. All sizes can be printed as single-sided or double-sided.
8ft size
11ft size
14ft size
Banner bases are available across all sizes.
What's included with our Teardrop flags?
Available as single-sided flag or double-sided flag.
Our Single-sided fabric banners have a 95% reverse bleed through and are printed on and open-weave knitted polyester.
Double-sided flag banners include a block-out liner and two outer layers using a closed-weave fabric for the print. This will allow the prints to read correctly from both sides. You can have different graphics on each side of the banner.
There are four styles to choose from in our flag banner range
Printed using full color dye sublimation printing allows PMS color matching
Lifetime warranty on flag poles and bases from manufacturing defects.
Teardrop Flag Bases and Stands
Ground Spike or Ground Stake Stand
The ground stake stand is designed for Teardrop Flags used outdoors. It grounds the teardrop flag remarkably well with little chance of it falling to the side, in close to all weather conditions.
Cross Base
The four cross base is designed for both indoors and outdoors uses. All the four legs of the base can be folded and the base turns into a compact base. Great to be used when traveling to off-location events.
Cross Base with Water Weight
The cross base with water weight is also designed for both indoors and outdoors. The water weight offers more weight and stability to the flag than the regular cross base. The water weight can be easily filled and then emptied of water.
Tire Base
Our tire base should specifically be used with a vehicle. The tire base should be slid under the vehicle's tire giving the flag its needed stability. You can use a teardrop flag with a tire base at a car dealership or next to a parked vehicle at your grand opening outdoor events.
Knitted Polyester
Teardrop Flags have an open-weave knitted polyester fabric. This fabric is ideal for any type of graphic – black and white or brightly colored. Polyester is also the most durable fabric option – offering your Teardrop Flags endurance for multiple uses.
Custom-made
Teardrop Flags are all custom-made. You decide and choose the graphic shown on either one side or both sides of the flag. Choose just text, images, or images and text – and let us bring them to life with our full color high definition printing (using dye sublimation).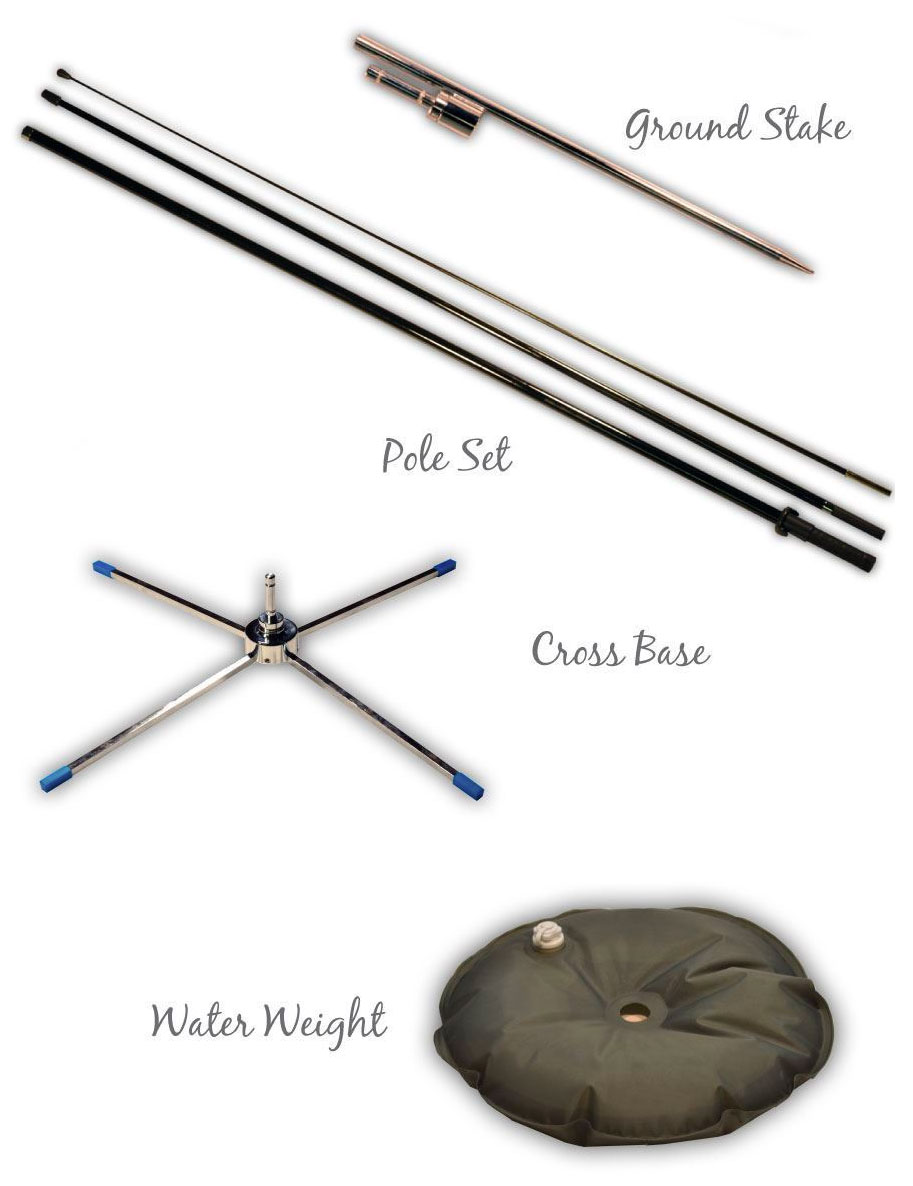 Types of Teardrop Flags:
Double-sided
Double-sided teardrop banners are your best and most attractive teardrop option. Bring attention from two sides to your print by choosing the double-sided teardrop flag. Freely choose if you want the same print on one side or both.
If you choose different prints for the banner's two sides – the banner has a block-out liner which prevents one print from "ghosting" (a feint image showing through) to the other side.
The A+ rated double-sided Teardrop Flags guarantee instant attention to your marketing print – from two sides.
Single-sided
Single-sided teardrop banners are again a valuable option for your marketing strategy. Printing your custom design on one side of the banner will bring promotional attention, but slightly display the graphic in reverse. Make passers-by curious to see what is on the clear visible side and turn around once they reach the banner.
Although not as effective and appealing as double-sided flags – they are more affordable and still a highly qualitative investment.
Outdoors
Both double-sided and single-sided Teardrop Flags are exceptional for outdoors use. They will turn the heads of passersby and drivers. Use them to draw attention to outdoor events such as fares, sports events, community events, school events, concerts and more.
Confidently display the Teardrop Flags outside by choosing one of our four base types. The ground stake goes directly into the earth, and the cross chrome-plated carbon steel base, withour free water weight bag, offers incredible stability. While the tire base is ideal for car dealerships.
Indoors
Both double-sided and single-sided Teardrop Flags are exceptional for indoors as well and will offer you the customer and audiencethe impact you are seeking. They are a great advertising tool for any indoor event – indoor fairs, trade shows, business events, medical and educational conferences and more!
When using Teardrop Flags indoors, ground stakes cannot be used. Indoor Teardrop Flags can be grounded with our strong cross chrome base or tire base, offering you a strong yet easily movable base.